From the haunting a capella opening track, "Old Churchyard," you can tell that there's something special happening on FIFTEEN, the fourth full length studio album from Canadian Folk trio The Wailin' Jennys. Celebrating their 15th anniversary – hence the album's title – the three hugely talented ladies that make up the band create a sound that is both intimate and spacious. Nicky Mehta, Ruth Moody and Heather Mass have recorded an album of covers that they have most definitely made their own. It is a delectable treat for the ears and the soul.
The album's second track – a tender cover of Tom Petty's "Wildflowers," which was recorded and included on the album before the songwriter's passing – will undoubtedly bring the most attention to the album yet there is so much more to love about FIFTEEN. The Wailin' Jennys not only approach these songs with respect and admiration, they inhabit them, rearrange them and give each song a new pair of wings. Jane Siberry's "The Valley" is beautiful, seemingly floating around the room as the trio's voices lift it up to the heavens. Paul Simon's "Loves Me Like A Rock" is playful even in its minimalism – their voices are only accompanied by clapping hands and stomping feet. Their version of Warren Zevon's "Keep Me In Your Heart" is a tear-jerker and will surely move those familiar with Zevon's version and the emotional impact it had on them when he passed away shortly after it was released. Other highlights include powerful interpretations of Dolly Parton's "Light Of A Clear Blue Alone" and Emmylou Harris' "Boulder To Birmingham." The Gospel of "Weary Blues from Waitin'" (penned by Hank Williams) closes out the album the same way "Old Churchyard" started it – three voices that blend so well together singing straight from the heart.
Overall, FIFTEEN has a haunting yet comforting feel to it. It is as if you woke up in a meadow just before daybreak and found yourself face to face with a trio of angels intent on offering you salvation. Though not an upbeat album by any means, FIFTEEN is still filled with passion and hope.  It is calming and lovely, offering a respite from all the darkness in the world. 
Keep on truckin',
Stephen SPAZ Schnee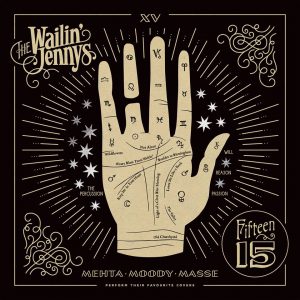 THE WAILIN' JENNYS
FIFTEEN
10.27.17